Below are the frequently asked questions (FAQs) for our PE air packaging films
1. What PE air packaging films can you offer? Do you have photos?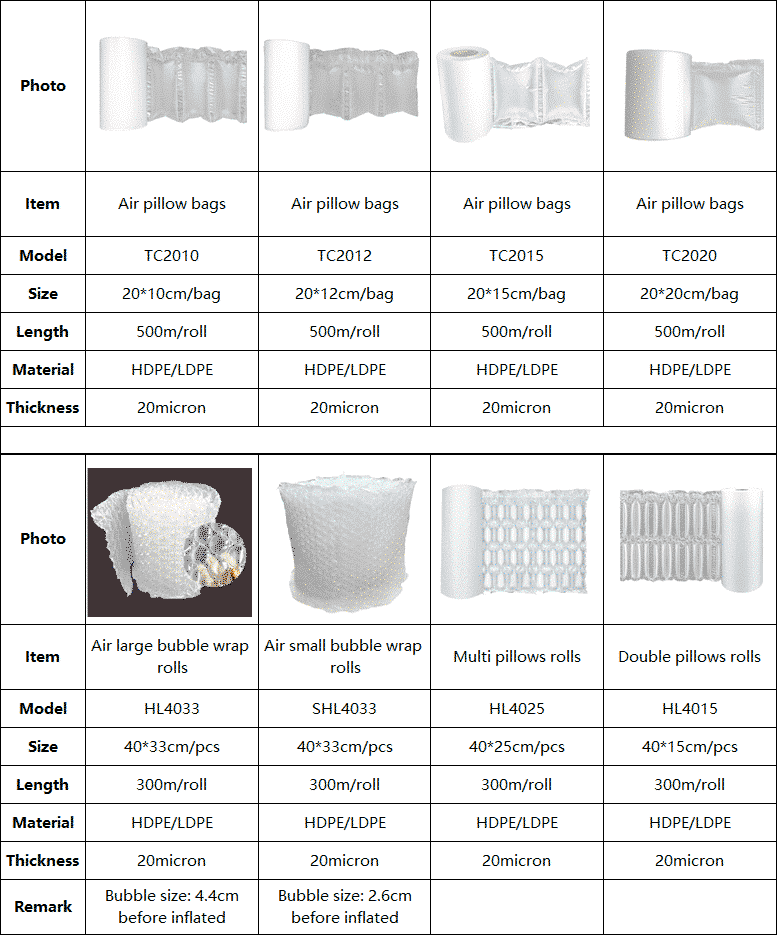 2. Are you PE air packaging films made from HDPE or LDPE?
Our films are HDPE 20micron, and if LDPE, will be 25micron or 30micron. LDPE cannot be 20micron.
3. What is the difference between HDPE films and LDPE films?
The most intuitive difference between them is the transparency.
LDPE is more transparent than HDPE.
5. What is your air packaging films air inlet sizes (the width of place to put inflator inside the film)? Can you do other air inlet sizes?
Our normal films' air inlet size is 20mm. And we also can do with other air inlet sizes like 13-20mm
6. What are your rolls inside core dimension?
Our normal rolls inside core dimension is 2 inch (50mm). And we can also customize other diameter between 1-3 inch for your machines.
7. Can you do the air packaging films with color and printing? What is the MOQ?
Yes, we can. MOQ is 200rolls.
8. Do you have 20cm width and 900meters air pillows films? Whether your machine can inflate 900m rolls films?
Yes, our normal length is 500m/roll for air pillows. For 900meters, we can customize.
Our S7 machine can inflate. And 28m/min max.
9. Do you have also machines or only films?
We also sell air cushion machines with various speed.
10. Can you make different shape air packaging films like stars, hearts? What is the MOQ?
Yes, we can customize as per your request. And MOQ is 500rolls for each.