A Global Partner Who Undertands Your Packaging Needs
We can help you cut costs, increase warehouse efficiency, control shipment damage through sustainable, innovative air packaging solutions.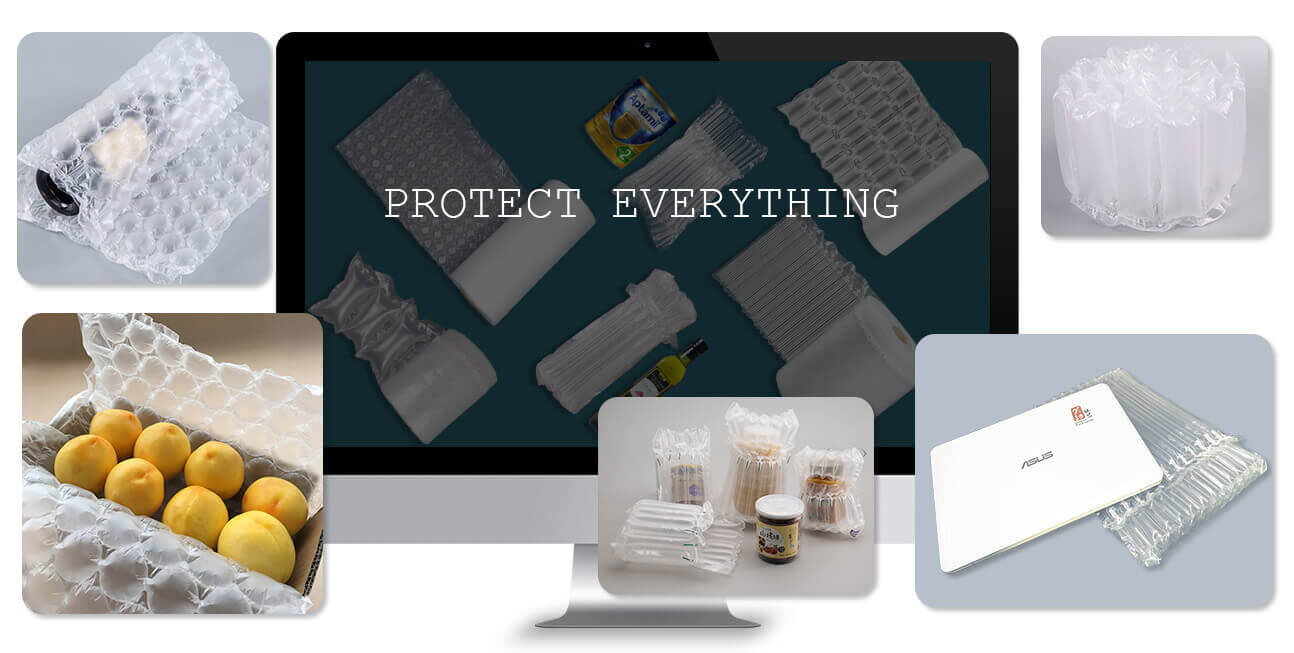 Committed To Meeting Your Packaging Needs
We Served More Than 15,000 Customers Worldwide
AIR CUSHION MACHINE/ AIR PILLOW MACHINE
On-demand air cushion machine is convenient, stable and efficient.
Lightweight, portable and easy operational inflatable device.
Exquisite and compact appearance.
Up to 30m/min speed (S7 Model) air pillow machine.
Cost-effective choice for small factories, warehouses and shops.
Multifunctional air cushion machine aplicable to air pillow film, bubble packaging, bubble air cushion film, bubble  packaging bag film.
Benefit your business from it's particular features: easy to use, inexpensive, effective protection, efficiency.
Bubble wrap packaging film is ideal packaging for little, light and fragile products.
It can be inflated by air cushion machine.
Perforation line every 40 centimeter, easy to separate and use.
Optional Ldpe / Hdpe material / Biodegradable material.
Logo & slogan printing service.
Reliable, sustainable, and efficient Void Fill Material.
Prevent items from shifting, bruising, or breaking during shippment.
Easy to use: perforation line added.
Automatic air cushion system: inflating speed at 12-30 meters/ minute air cushon machine available.
Optional custmizaion: HDPE/LDPE material, logo & picture printing, biodegradable material( Chitin Solution), thickness.
High cushioning performance protective packaging materials.
Excellent Protection: 7 layer PA/PE co-extrusion material, good load bearing.
Independent air column: one column broke, others still protect your product effectively.
One-inflation forms  multi-column inflatable packaging: Continuous air column, automatic air holding.
Cost-effectiveness:hand pump and automatic inflation machine applicable inflation tools.
Optional customizaion: perforated line / logo & slogan printing
Shiner Packaging has been in the industry of air packaging  for 6 years, making it a trusted partner in the world.
We Are Ready To Help Grow Your Business Safely
We manufacture and sell seires of air packaging products such as air pillow packaging, air cushion machine,  bubble wrap film, air column packaging, custom inflatable packaging materials to help our customers to cut costs, improve packaging efficiency and control damage.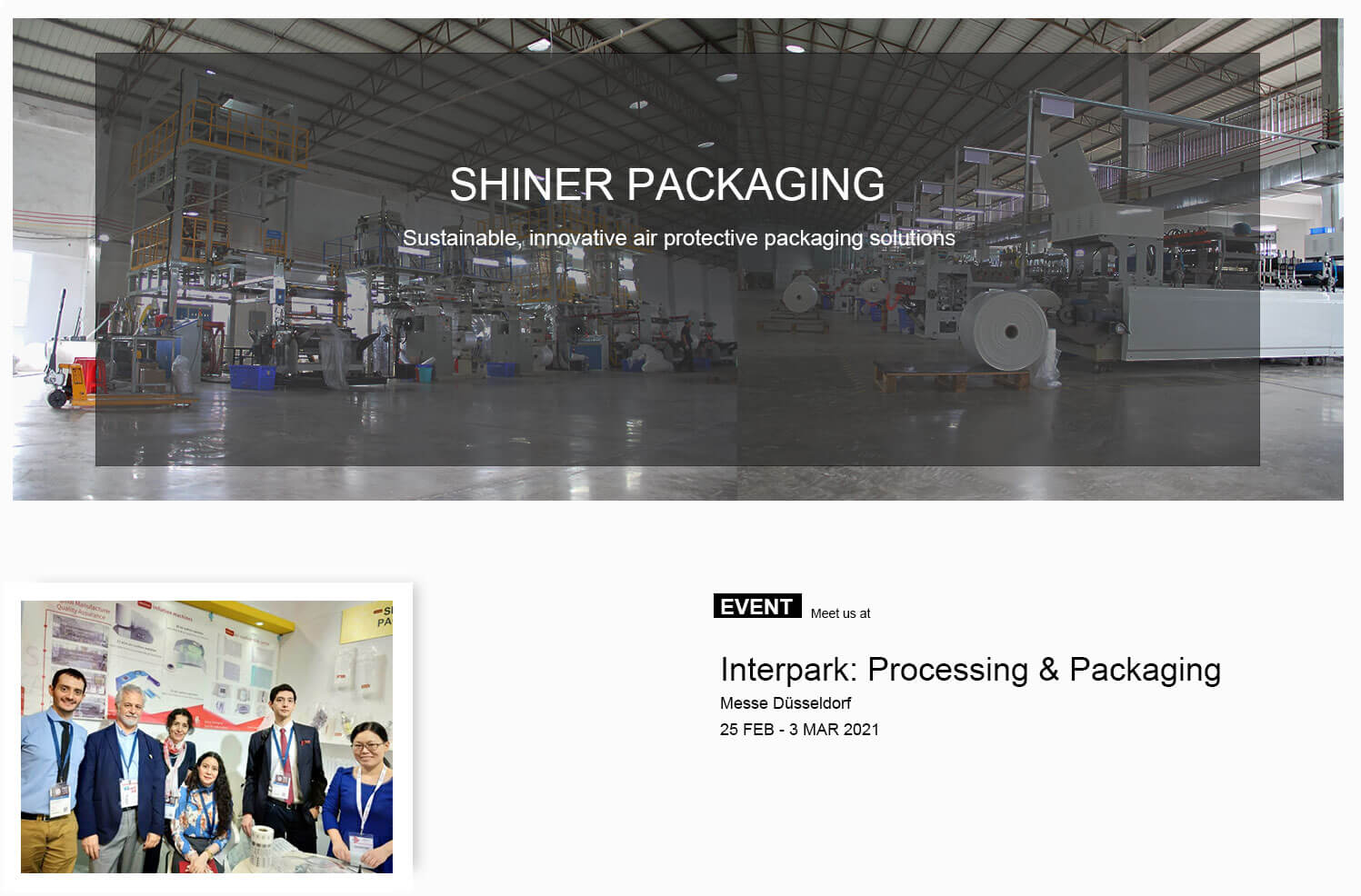 Reviews, trends and tips covering all things about air cushion packaging to protect your products.
Honeycomb Paper Pad Packaging Compared with traditional cosmetic bubble film packaging, 3D honeycomb paper packaging system has
Air cushion machine is a new kinds of mini packaging machine. Normally it is also called air
Wine bottle package - keep your wine bottle safety fragile products, Wine bottle     According to research,
Our recent transaction with the seller was really good. Except a small problem that was made by the shipping forwarder company, it all went smoothly. The communication was easy, the products were of high quality and we are quite content with working with them. Highly recommended.
Wow! This machine is wonderful, really good quality. I had it up and running 10 minutes after it arrived. The instructions were well translated and easy to follow. The pillows just fly out of this thing without a problem. I will be ordering more pillows soon!
Machine works great like customer support!
The machine and rolls are working well as expected, and the setting up was easy to follow too.
Protect your items during shipping and make your own air cushions and void fill materials. The A2 air cushion machine will help reduce your damage claims.
Max. speed up to 16 meters/min
Adjustable temperature and air volume
Works with both air pillow and air bubble
Compact and ease to use.
Used for wrapping, interleaving, block and brace and lining to protect your valuable products from shock damage during transit. One roll of bubble film equals 3 rolls premade bubble and better cushion protection, what you need is an air cushion machine.
300 (985 ft) meters a roll
40cm (15.8 in)  width
Peforated every 33cm (13 in).
Default 20 micron thickness ( Contact us for other thickness)
Optional two bubble size: 3cm (1.18″), 2.5cm (0.98″)
Inflatable bubble cushioning pouches simplify the packing operation by eliminating complex packaging process and wasteful overwrapping. Inflate when you use it. It saves your valuable storage space.
Consistent protection and cut shipping cost
Save storage space and packing time
Reduce packing materials
Contact us for custom size for your valuable product